Three operations of the thread split are performed sequentially at the same work place in domestic conditions. On this reason it would be better to combine three contrivances at a single revolving platform. The roundabout mechanism of the integrated workplace is presented here (Fig3.30…Fig.3.32).
The platform consists of two disks – unmovable 1 and revolving 2. The disk 2 rests on four rollers 3. Four poles are attached on the movable disk 2. The platform 5 of the contrivance for thread split is set on the poles. This contrivance consists of the units 6 and 7 that are described in the paragraph 3.3.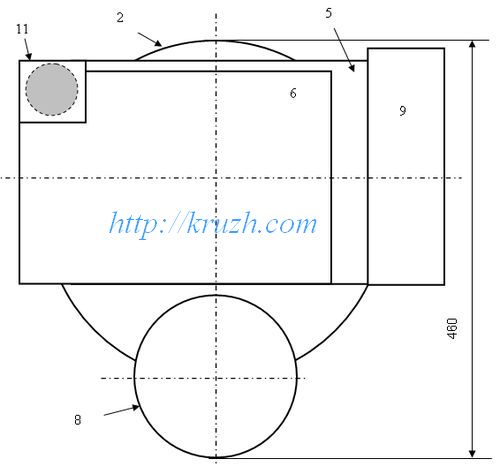 The contrivance 8 for rewinding thread to the clew is mounted on the disk 2 too. The contrivance 9 intended for rewinding of thread to the saving spool is attached to the platform 5 and is supported with the bracket 10. The box saving the clew is set on the platform 5 as well.
A lace maker turns to herself one of the contrivances that is needed now. The rotation is performed easily since the rollers between disks are ball-bearings.
When the contrivance is chosen, the upper disk position is fixed with the brake lever that is set on the disk 1 (Fig.3.30).
The lever is pulled normally with the spring to a gap between the disks 1 and 2. The disk 2 is stopped due to friction strength that is obliged to the rubber strip attached to inner side of the lever. When the disk 2 is to be turned, one must pull the lever with the handle out of a gap.
When the next contrivance is chosen one must relax the lever. The spring will move it at the former place.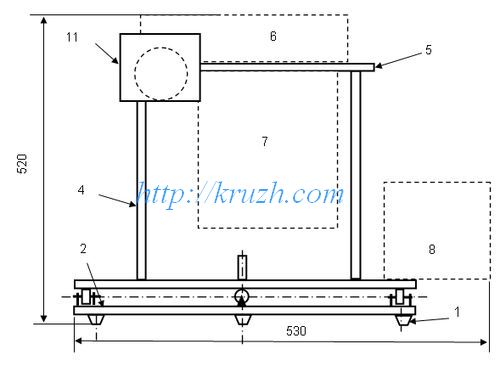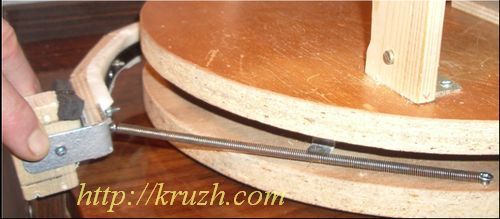 >The integrated work place is shown on photo (Fig.3.34 … Fig.3.38).