Two covers are to be put on the bolster – constant (inner) and changeable (external). The last one is to be refreshed every time when the finished lace is taken away from the bolster.
Sizes of rectangular fabric rag for the cover are calculated the next way. Length of the first side:
X1 = 2?R + P, where: R – bolster radius; >P – margin for tucking (about 2 cm or 0.8 inch).
Inner cover value of X1 is to be enlarged on 0.5 cm (0.2 inch) and the external one on 1 cm (0.4 inch) when a cover is put on a bolster of porous material. It is necessary to put the cover easily on the bolster.
Length of the second side of the rectangle:
X2 = L + 2T + 2K, where: L – bolster length; T – an addition for butt-end (1/3 or 2/3 of a bolster radius, as an executor perceives); K – tucking margin for a chord.
Notes.
It is recommended to sponge the rag before it cut out to escape possible changes of cover sizes after washing.
The best material for a cover is linen or cotton fabric of light colors.
3. Plastic bolsters turns out too easy. It is recommended to enlarge mass of the bolster up to 2-3 kg. For the purpose it is necessary to put into the bolster cavity a bottle or a little sack filled gravel or sand (Fig.1.12).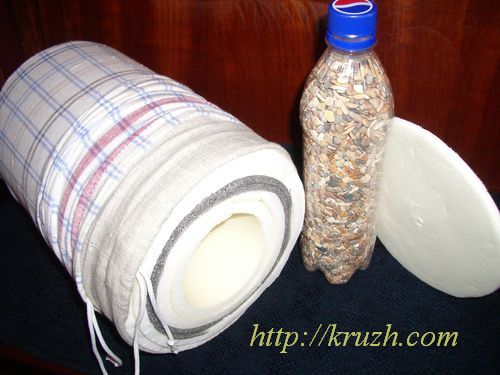 A lace maker can sew a sack-"banana" for a portable bolster. Authors suggest their variant of a sack (Fig.1.13).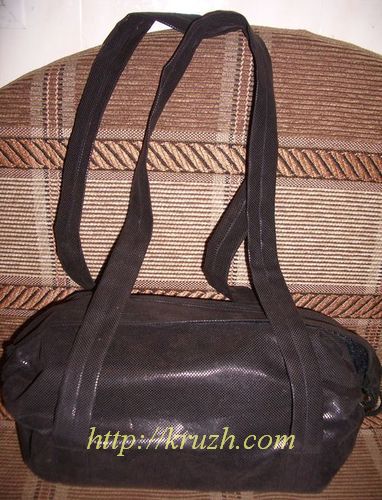 "A bandoleer" for 12 pair of bobbins is a good supplement to a portable bolster in link technique. It is needed to set accurately bobbins on a bolster to stave off thread rupture and entangle during travel. Bobbins are fastened at "a corset" (Fig.1.14) that is put on a bolster (Fig.1.15).